Latest News
Become a member to receive newsletters and e-updates on all local cycling news.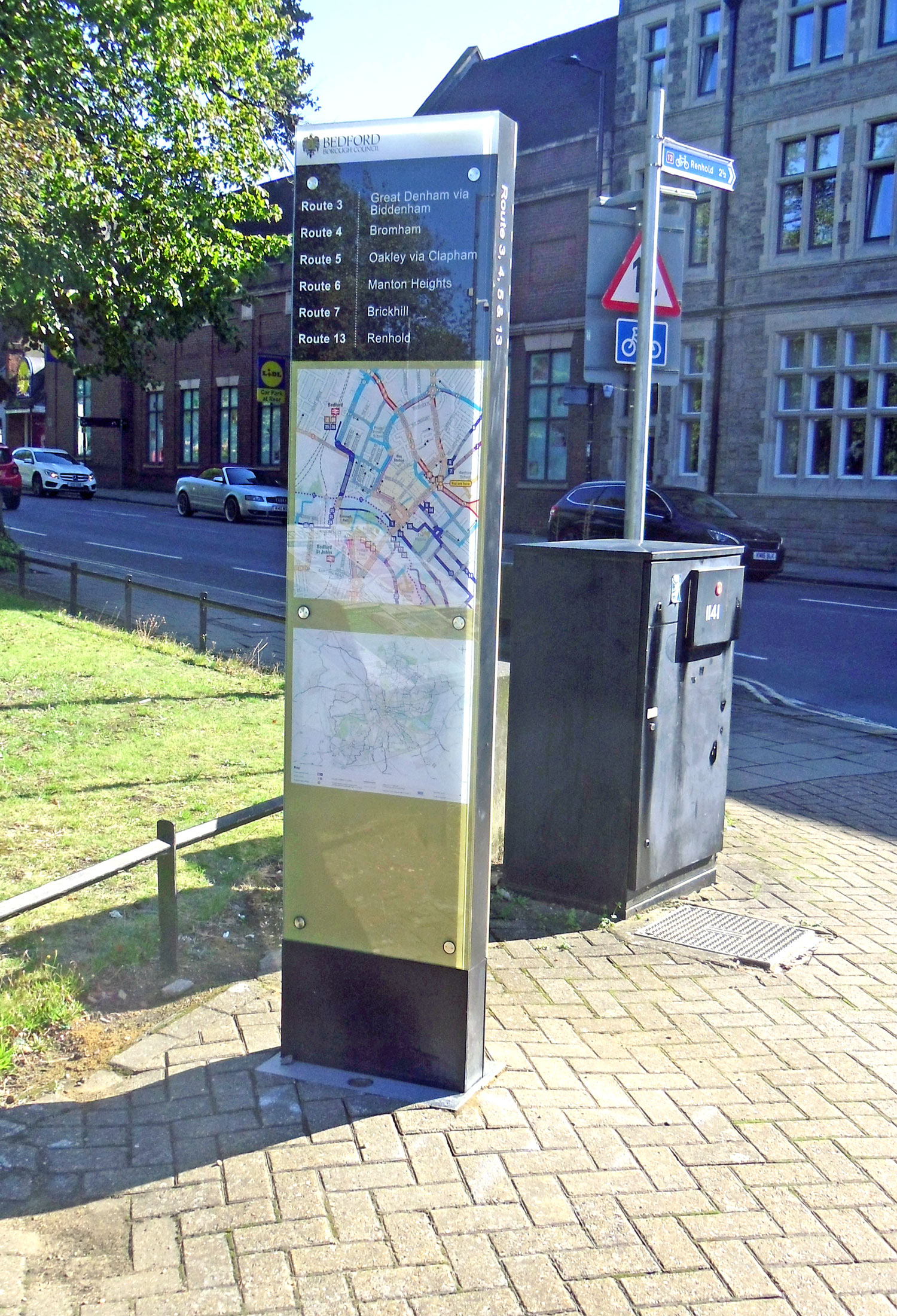 During 2021 all of Bedford's cycle network has been signposted using £380,000 of the £1m grant awarded to Bedford from the government's town deal accelerator fund. Each junction has a finger post showing the the route number. Only the beginning and end of the routes give an indication of their destination.
The Borough's published network is basically a dual network with routes varying in type and purpose from
• quieter more safer routes using paths and mainly 20mph residential roads for new/less confident cyclists
and
• fast direct routes using main roads for experienced/confident cyclists willing to share their ride with fast and sometimes heavy traffic.
In the revamped High Street near Mill Street and also at the junction with St Peter's Green information boards have been erected with a map of the town centre as seen in other parts of the central area but for these the maps show the number of each cycle route starting from the town centre. However nowhere does it indicate that the numbers are of cycling routes and the map is lost on the majority of residents (and visitors) even those who are already cyclists.
"CCNB has published a short video describing the current network.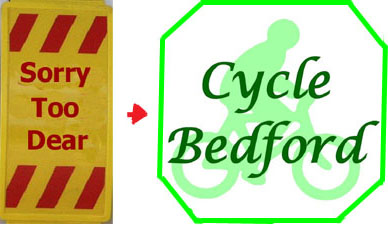 With the cost of living and particularly energy bills rising one way to save money is to cycle (or walk) that short distance to work, shops, leisure facilities and the railway station. This will at the same time help to save the planet from irreversible climate change, reduce pollution and congestion and improve your health. With spring, better weather and lighter nights just around the corner there is no better time to start if only at the beginning for just one day a week.
Public Spaces and Protection Orders (PSPOs) were introduced in 2014 under the Anti-social Behaviour Crime and Policing Act 2014, to enable Councils to prohibit certain types of subversive behavior within a geographically defined area that are detrimental to the local community's quality of life.
Bedford Borough Council's introduced its first three year PSPO in June 2016 to restrict cycling in the town centre between 0900 and 1800 hrs. This was followed by a second one which expires in June 2022.
The Council is considering to introduce a new (third) PSPO for a further three years to include the existing cycling restrictions and additional restrictions on e-scooter use and skate boarding so enable it to continue to take action against those individuals that commit this anti-social behaviour to ensure Bedford is a safe and enjoyable place to live, work and visit.
A consultation posing three questions on these restrictions was held between 1 December 2021 and 4 January 2022. See https://bit.ly/3qGo9hn
At the Borough's Executive meeting on Wednesday 2 March 2022 the decision was taken to extend the ban by a further three years.
Cycling Campaign for North Bedfordshire wishes all Bedford Borough current and potential cyclists a Happy New Year and the hope that 2022 will be a better year than 2021.
Apart from the continuing threat of further mutations of the Covid-19 virus the major crisis of our time is the continued warming of the planet which if not suppressed will change the way of life of everybody forever.
At the 2015 United Nations Climate Change conference in Paris (COP21) it was agreed to keep global average temperatures below 2˚C, preferable below 1.5˚C, above pre-industrial levels to prevent an irreversible catastrophe. The latest Intergovernmental Panel on Climate Change's (IPCC) report states that current actions will exceed these levels by the end of the century and we only have until the end of the decade to take the necessary stronger actions to prevent irreversible changes
It will be huge challenge. Actions of governments were ratified at the November 2021 COP26 conference in Glasgow. Yet the greatest threat is the belief that these actions inconjunction with local authorities is all that is necessary. The truth is that everyone, including all residents, MUST do their bit no matter how small.
The latest (2019) local authority emission figures for carbon dioxide, the main greenhouse gas responsible for global warming, show that although total emissions in Bedford Borough have fallen by 34% since 2005 the main sector is still transport at 41% of the total.
CCNB appeals to all residents in 2022 to do what as much as they can to reduce their carbon emissions and when travelling to use more sustainable modes, cycling and walking for short journeys and public transport inconjunction with cycling and walking for longer distances.
Cycling and walking alone will not solve the problem but will go a long way to help as well as giving the added benefit of better health through increased physical activity and a reduced level of toxic air pollution. For those residents that have to continue to drive there will be less congestion.
&nbsp